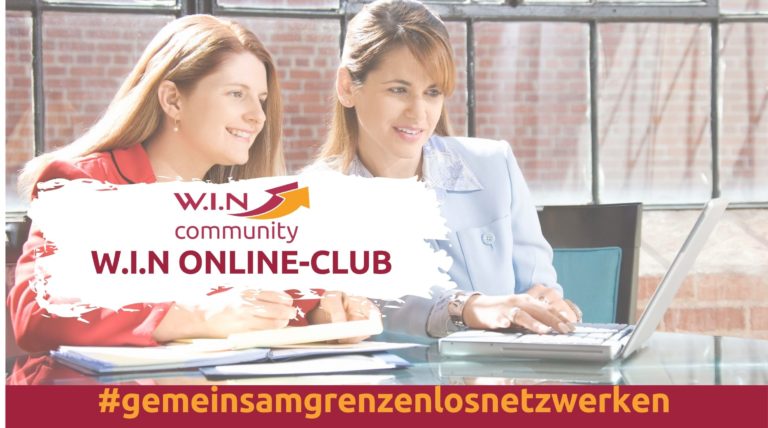 for the English version see below
Die
W.I.N Online-Club
Du möchtest Deinen Kontaktkreis erweitern und dazu vorrangig unsere virtuellen Möglichkeiten nutzen.
Unsere Leistungen - Dein Nutzen
1 Online-Workshop inklusive je Mitgliedsjahr
Abwechslungsreiche und gewinnbringende Themen
20-minütiger Willkommens-Call
Persönliches Kennenlernen, damit die Community Dich optimal unterstützen kann
Kostenfreie Teilnahme an allen monatlichen OnlineMeetings
Standortunabhängiges Meeting in einem moderierten Online-Chat
Kostenfreie Teilnahme an online MemberMeetings
Austausch zwischen Business- und Karrierefrauen auf gleicher Augenhöhe
Firmenpräsentation auf unserer Website inkl. Direktverlinkung
Erhöhung Ihrer Internet­präsenz, Kontaktbasis innerhalb und außerhalb der Community
Veröffentlichung eines Veranstaltungs-Termins pro Monat innerhalb der News durch die W.I.N-Redaktion
Geschäftsvorstellung als "geWINnerin der Woche"
Eine Woche lang Extra-Werbeeffekt auf unserer Startseite
Video-Interview für deinen Profileintrag

Mitgliedschaft in der geschlossenen W.I.N Facebook-Gruppe "W.I.N Online Club"
Preisvorteile bei Kooperationen, Partnern und weitere W.I.N Produkte
Sonderkonditionen bei Leistungen von W.I.N-Kooperations­partnern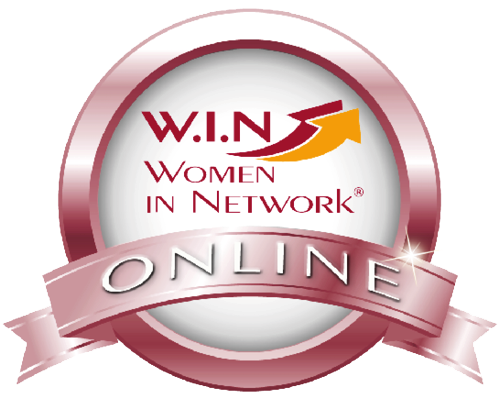 W.I.N Online-Membership USA

Monthly Fee

29,99 $
Admission fee to be paid on entry or re-entry 76, - $
All prices are without Tax.
Our memberships all have a term of 12 months and will automatically renew if they are not canceled in writing two months before expiration.
The
W.I.N online-membership
You want to expand your circle of contacts and use priority our virtual possibilities.
 
Our services - your benefit
1 online workshop included per member year
Varied and profitable topics
20-minute welcome call
Get to know each other so that the community can support you
Free participation in all monthly online meetings
Location-independent meeting in a moderated online chat
Free participation in all monthly MemberMeetings
Exchange between female entrepreneurs on an equal footing
Company presentation on our website including direct linking
Increase your internet presence, contact base inside and outside the community
Publication of an event appointment per month within the news by the W.I.N editors
Business Presentation as "WINNER of the Week"
One week long extra advertising effect on our homepage
Video Interview
Membership in the closed W.I.N Facebook group "W.I.N Online Club"
Price advantages in cooperations
Special conditions for services of W.I.N cooperation partners
Your WIN online-membership